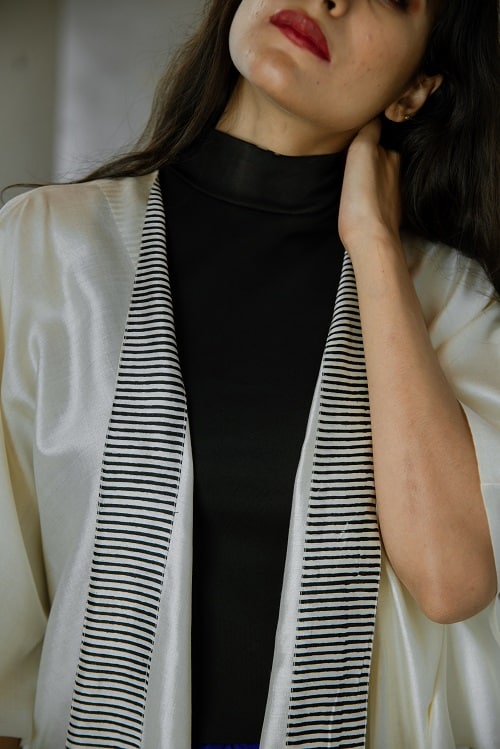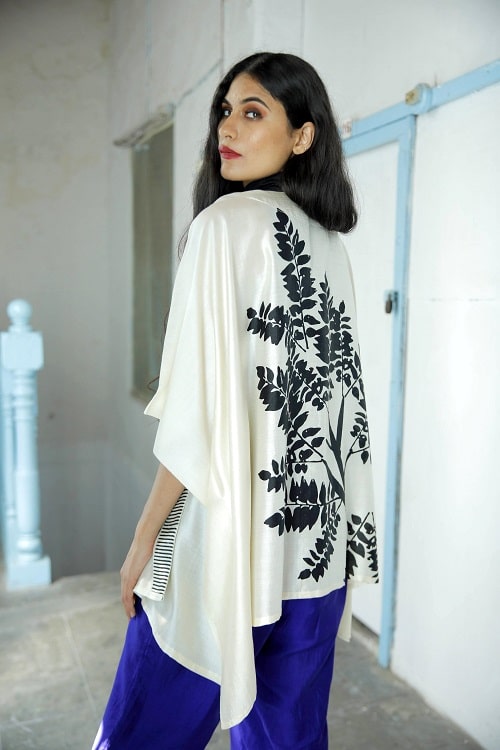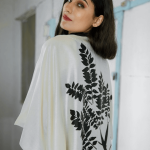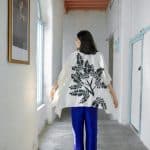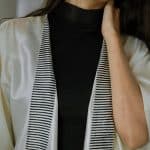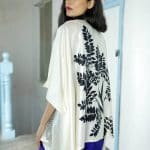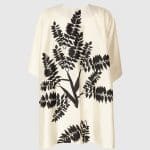 Organic Silk Kimono- Fallen leaf
€195.00
This elegant black and white Kimono style jacket in 100% Natural Eri Peace silk,  is inspired by Japanese art. An elaborate back but a subtle front and highlighted with a striped border. These kimonos have a fluid silhouette and can be used as an overdress or coat, over a simple top and bottom or even a dress. They hang loose with drop shoulders and wide sleeves. The side slits making it an extremely comfortable wear. Slow fashion at its best these are suitable as formals, and easily converts your  day look to an evening wear
Short kimono with front open
Drop shoulder with oversized sleeves.
Wide cut body with a relaxed silhouette
Slide slits
The hem inside the neckline and front is printed in a classical stripe pattern.
Made in India
Description
Size Guide
Additional information
Reviews (0)
Your Tree
Description
Our Organic silk kimono is made of Eri silk which is strong, dense and highly durable wild silk. The silk from this natural fibre is readily biodegradable after serving its full lifecycle and has low environmental impact. Besides being 100% hypoallergic and antibacterial, due to its thermal properties, eri silk is cool in summer and warm in winter.
The name 'Eri' is derived from the word 'era', which means 'castor', since the Eri silkworms feed on castor leaves  Our artisans  at Aeshaane, believe in slow silk farming, where the fibre gets extracted from empty cocoons only after the metamorphosis of the moth is complete and they leave their habitat, thereby completing the chain of circular farming. That is why Eri silk is also known as peace or vegan silk.
Our Eri silk silk cloth is a completely handmade artisan product, crafted by Kaushik, a third generation of rearers, who hails from the tribal 'Borah' community, nurturing his small dreams in a remote village called 'Phalpur' in Assam. Twenty women from a self-help group gather around post noon, to do the 'Chunai', or sorting of these empty cocoons. The methods used by the locals are environment friendly and sustainable. The indigenous women in the Assamese household invest their time in making these timeless pieces. Each piece has taken at least a week to produce, excluding the harvesting and printing by our artists. Each piece is ethical, produced in a small batch and truly a fabric with a soul!
Product Care– With a little love and care, your organic silk kimono will last you for years. We celebrate re-use, swapping and encourage you to repair whenever possible.
Dry cleaning is the safest option
Gentle steam iron on the reverse side or with a cloth over it
Do not wrap in plastic, as silk needs to breathe
Each purchase comes in a recycled bag for storage.
One size relaxed fit, fits XS – XL comfortably
Length centre front 82cm
Cross body chest 112 cm
The Model is 5'7''
Weight- 120 grams
Dyes: Azo-free non toxic dyes
With every purchase you make on our site you plant a tree. Once the purchase is made we send you an invite to plant a tree and an e-certificate with a link showing the exact location of the tree planted by you so you can always trace your tree.
We work in partnership with Tree Nation aiming to bring a technological solution to the problem of Deforestation, responsible for about 17% of all Climate Change emissions.
Tree planting allows us to restore and preserve the biodiversity and help avoid mass extinction of both humans and all other forms of terrestrial lives from their natural habitat.
Remember every positive step counts no matter how small a step you take!
Come be part of our forest.