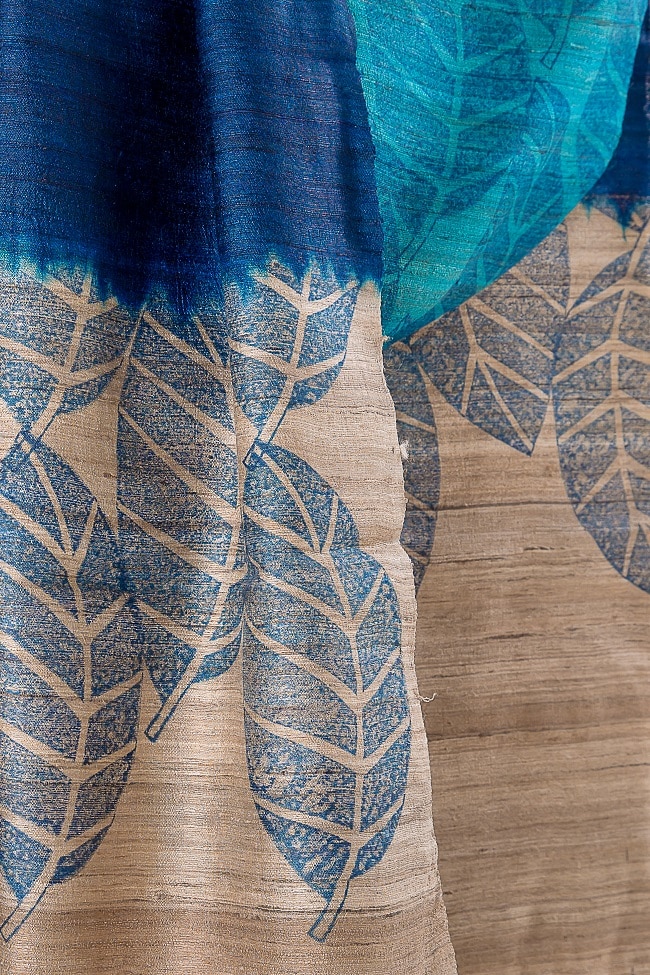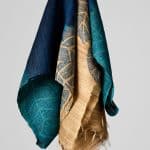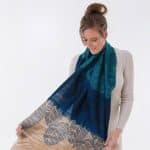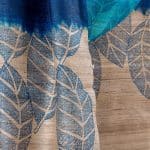 Tussar Silk Scarf Neel
€120.00
Ink Blue, turquoise and beige. This  scarf is the ultimate glamour accessory. This elegant scarf in shades of blue and bold leaves inspired by nature,  though simple is one of a kind. Made of high quality handcrafted Tussar silk , this scarf can be draped in a number of ways and pairs well with almost all outfits because of its neutral blue tones. Scarf is chic and smart, perfect both for daytime or an evening wrap.
Description
Size Guide
Your Tree
Description
This Tussar Silk Scarf is made in  organic peace silk, a favourite across all seasons. It is a timeless scarf which can easily mix and match with a range of colours.
Each organic peace silk scarf is handcrafted. The yarn is woven without harming the silk worms- hence we fondly call it the peace or Ahimsa Silk. Once the weaver has spun the fabric the printers start block printing each piece. Though we carefully inspect every piece, there can be minor imperfections which sets it apart from a machine-made scarf. In some ways the human imperfections connect you to the designers and weavers located in a village in remote India whom you can help by being a proud owner of an eco friendly silk scarf .
Product Care
With a little love and care your handmade silk scarf will last you for years. We always encourage re-using, sharing, and repairing your products.
Dry cleaning is the safest option.
Gentle steam or steam free iron on the reverse side, to smooth any wrinkle.
Store in the dust bag provided when not in use.
Do not wrap in plastic as silk needs to breathe.
Avoid spraying perfume or any aerosol (hair spray/ deodorant) on the scarf directly.
Length 200cms
Width 68 cms
Weight apprx 80 grams.
With every purchase you make on our site you plant a tree. Once the purchase is made we send you an invite to plant a tree and an e-certificate with a link showing the exact location of the tree planted by you so you can always trace your tree.
We work in partnership with Tree Nation aiming to bring a technological solution to the problem of Deforestation, responsible for about 17% of all Climate Change emissions.
Tree planting allows us to restore and preserve the biodiversity and help avoid mass extinction of both humans and all other forms of terrestrial lives from their natural habitat.
Remember every positive step counts no matter how small a step you take!
Come be part of our forest.